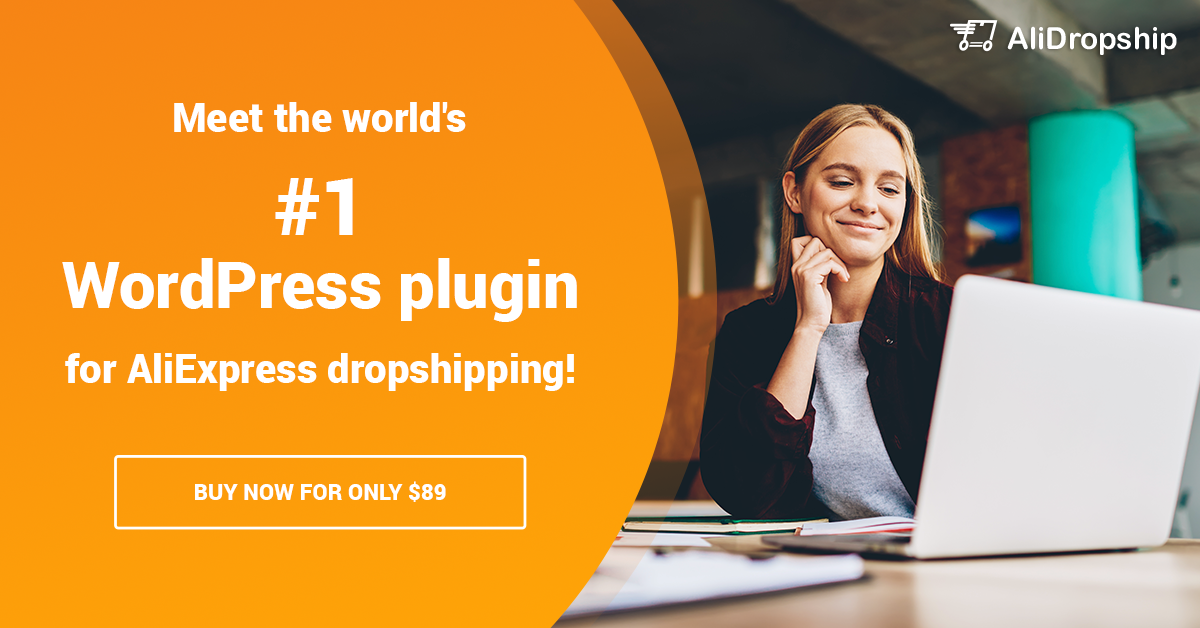 Have you ever been frustrated with the tech of a website?
I know when just getting started as a beginner, I learned the hard way that manually importing AliExpress products into your eCommerce store is painstaking, and not at all viable.
In order to run an AliExpress dropshipping business, you NEED a plugin that can import products into your eCommerce store.
Literally, I almost died without one (don't do it manually).
It makes sense, you need a plugin that can automate your drop-shipping based business.
That's one of the best perks of this business model!
Yet with all the monthly fees and different options from eCommerce platforms, what should you and I choose? Where does AliDropship compare among the others?
In this AliDropship review, I'm not going to try and sell you on it, yet rather explain how I use it, and how you can utilize it as well in your business.

What Is AliDropship?
In the first place, AliDropship allows you to import AliExpress products into an eCommerce store on your own WordPress site. This allows you to easily get started with your dropshipping based business.
In the first place, AliDropship allows you to import AliExpress products into an eCommerce store on your own WordPress site. This allows you to easily get started with your dropshipping based business.
One of the best features of AliDropship is it's ability to just work, and that it allows you to turn your entire WordPress site into a fully functioning dropshipping eCommerce store with one plugin.
Few other companies really give you such a simple process to crafting your drop shipping business and website.
You can make things simple to start with as a beginner with their pre-built themes as shown above.
Additionally, you can also choose to integrate a WooCommerce store with their plugin if you'd like to if you'd rather choose to use a more open source and customizable system.
I'll break down the exact differences between these two types of AliDropship based stores and plugins further into this review.
AliDropship Chrome Extension
This extension allows you to automatically import AliExpress products right into your eCommerce store.
Here's a short video from AliDropship going over the extension:
The AliDropship chrome extension also allows you to manage more than one website.
This is incredibly useful for store owners that have more than one website to manage.
Importing AliExpress Products
When using the chrome extension, the processs is quite simple. To demonstrate, you simply search for a desired niche.
Then scroll to the product you want to import.
Then, you just click the orange import button and it sends the product right into your eCommerce store.
It's important to note that you do want to select "ePacket" as your shipping method of choice.
You can do this by clicking on the gear icon in the upper right hand corner of your browser, and then select your target country and ePacket shipping:
This is typically the fastest shipping option for many products when dropshipping from AliExpress. You can expect them to arrive to your customers in around 10-15 days.

Importing AliExpress Product Reviews
Another feature that is included within AliDropship is their product review import option.
If you want to import some of the AliExpress product reviews into your store, you can do that with the click of a few buttons.
First, go to the AliDropship main menu:
Select "Import Reviews".
Then, you have a variety of different options when selecting what kinds of reviews you want to import:
You can choose whatever options you like, and then their system will automatically import these reviews as comments on your eCommerce products pages.
Typically this kind of feature is not included in most plugins, and is something you have to pay extra for.
I personally really find this feature valuable to be able to display social proof when importing new products into your store.
Fulfilling Orders
In any event, one of the most satisfying aspects of a dropshipping store is fulfilling orders. With AliDropship, you can do this quite easily as shown below:
This task does prove to be a bit tedious with many orders, yet with their data entry automation makes it much less painful, and quite quick to process your orders.
Let's talk about the pros of AliExpress. It lets you sell more than 100M products from 100K+ suppliers. There isn't much you can't find there, from lightsaber umbrellas  to leashes for hamsters. 
About AliExpress suppliers
AliExpress supposedly vets the "trusted" suppliers who list on the platform. However, it's not unheard of for scammers to slip through the cracks. Dropshipping is always risky, so common sense applies. Read the buyer reviews. Try to gauge their communication. It's always wise to buy a product for yourself to see how fast it arrives at your house – especially before a bulk order.
Delivery is available in 200+ countries via plenty of carriers (UPS, FEDEX, DHL, TNT etc.). Shipping is often free and includes order tracking. Their Buyer Protection System is also good, as it includes money-back guarantee.
Pros of AliDropship:
Import products from AliExpress into your site in one click
Import AliExpress product reviews
Choose customizable, mobile-friendly themes
Integrate dropshipping with your WooCommerce store
Built-in marketing features to send email and create coupons
Automate pricing based on your custom rules
Access product tracking and analytics from your dashboard
Access free support
Automate the plugin updates
Add unlimited products
Cons of AliDropship:
WordPress can be hard for beginners
Not many themes available. They also lack design flexibility because most of the settings are locked (header and menu position, layout, etc.)
Some features are paid: for instance, a popup for recent sales ($29) or product reviews from your own customers (both cost $29).
1-click import only works on Google Chrome
Conclusion
Drop shipping is considered a low-risk business model making it great for new entrepreneurs.
Are you ready to start drop shipping business?
Order your own webstore today!
As soon as it's done, you can start marketing to get your sales.